CBD and melatonin
After a long, action-packed day, sometimes all we want to do is just fall right into bed and give our body and mind time to rest over a wonderful evening tradition called sleep. However, often this is easier said than done. Many nights, our thoughts continue to swirl about, which prevents us from calming down and nodding off into dreamland. Some people find that taking CBD with melatonin can help in these cases. Products with these ingredients might be able to help us relax as we gently drift off into some much-needed sleep.
This Place products for a more restful evening
Following a balanced diet and getting enough exercise are important to staying healthy and fit. But getting a good night's sleep is key as well. Take whatever time you need in the evening to relax and reflect on the day. A long bubble bath, good music or your favourite book can help you feel more grounded and allow you to unwind.
For the times that you might have a little more trouble powering down, This Place has you covered with natural skincare products. With their high-quality ingredients, our collection of oils and creams can be easily integrated into your end-of-day care routine. With its ethereal blue tansy oil, The Evening Glow, for example, can not only help relax your mind but also soothe your skin. Its calming scent can help you relish the moment and thus increase mindfulness and your overall well-being.
How much CBD should be taken before bed?
Are you amongst the many people who find it difficult to fall asleep or who frequently wake up in the middle of the night and often feel drained come morning? A CBD cream or a melatonin preparation — or a product with both CBD and melatonin — might be able to help. Studies have shown that these ingredients have calming and sleep-promoting properties and can thus make it easier for you to fall asleep and stay asleep.
Our sleep cream, The Good Night contains CBD, natural melatonin and kaolin to help you relax during your evening care ritual. The cream's palo santo aroma can also help bring your swirling thoughts to a rest so that you can unwind more easily and hopefully get a good night's sleep.
However, the amount of melatonin and CBD that's needed to promote better sleep depends from person to person, especially if it's taken orally as an oil opposed to applied topically as a cream or oil. Recommended doses of oral melatonin are from 0.5 mg up to 3 mg. When it comes to oral CBD, the Dutch Office of Medicinal Cannabis recommends starting with a low dose to minimise the risk of side effects and advises doctors that 'the efficacy of the dosage used can be assessed by you as a doctor - together with your patient - after two weeks, and adjusted as necessary'. While there are many people who might use CBD oil for better sleep, it's always recommended to talk to your doctor first to discuss your condition and the risks associated with trying options like CBD to support building better sleeping habits.
Can you sleep better with CBD?
There can be many different causes as to why we struggle with falling asleep and staying asleep. Anxiety, stress and pain can each affect our ability to relax and thus affect our ability to sleep well. CBD might be able to help alleviate these symptoms and thus encourage a better night's sleep.
For example, CBD for pain might be a potential application. In an animal study, rats who were given CBD experienced a reduction in chronic inflammatory and neuropathic pain. Even though the scientific evidence of such effectiveness in humans is still pending, these are still promising results.
If it's restlessness or anxiety that's affecting your sleep, CBD products might be able to help as they have anxiolytic and calming properties. That being said, the clinical studies available to date to support these findings involved high doses of CBD that are not commercially available.

Those interested in trying CBD for better sleep can head to their local pharmacy or purchase CBD online, where one can find a large selection of different CBD products available. Whether you're most drawn to CBD bath balls or a CBD face cream or a completely different set of CBD products is entirely up to you.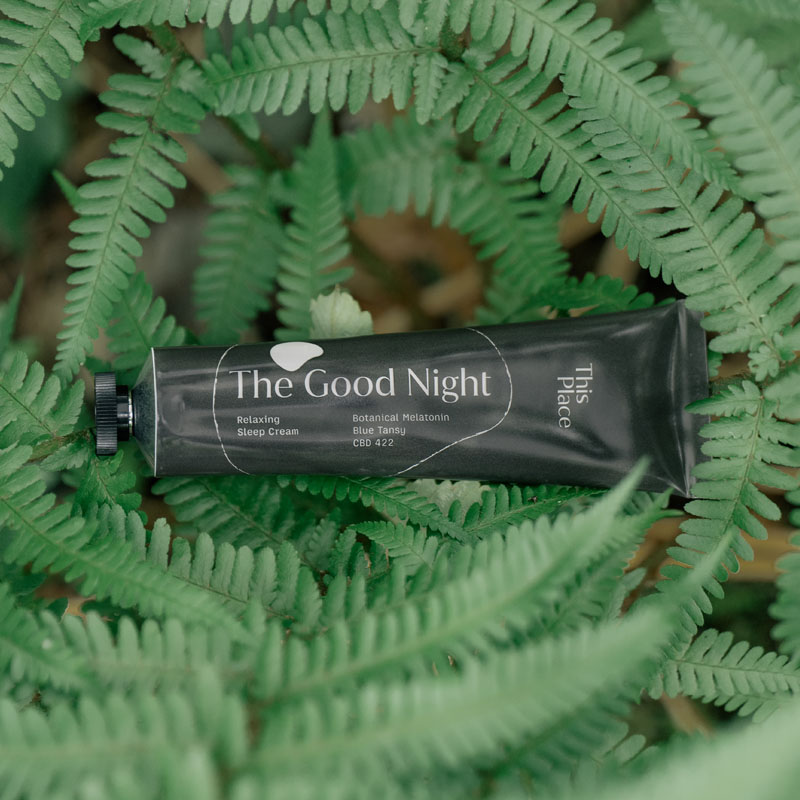 How long does CBD take to work?
Regardless of whether your CBD product is meant for oral or topical use, in short, it's hard to tell when the effects of CBD will start to take hold. After all, it is a natural product with active ingredients that each body absorbs differently..
Perhaps you might already notice a change in your sleep behavior after 1 to 2 days of trying a CBD product. Or perhaps there are no immediate effects and it takes several weeks or months to see signs of improved sleep. The Dutch Office of Medicinal Cannabis states that 'Achieving a "steady state" situation and thus the maximum effect of repeated administration takes one to two weeks' and advises patients to take a fixed daily dose at a fixed time as well.

What's important is that you take the time that you need every day to relax, reflect and unwind. While you're at it, why not support your evening ritual with soothing CBD skincare products?